We take the liberty of introducing to you our gears you might look for.
Here we are pleased to show you our brochure (with pictures) and the current price-list for your reference.
If you happen to be interested in some of them, we suggest that you place a trial order to see whether they will fit your requirement.
Any enquiries or orders from you will have our keen attention.
We are sure that you'll take adventage of this golden opportunity to rent these genuine goods at fair price.
Additionally, we have to charge cash pledge or charge documents.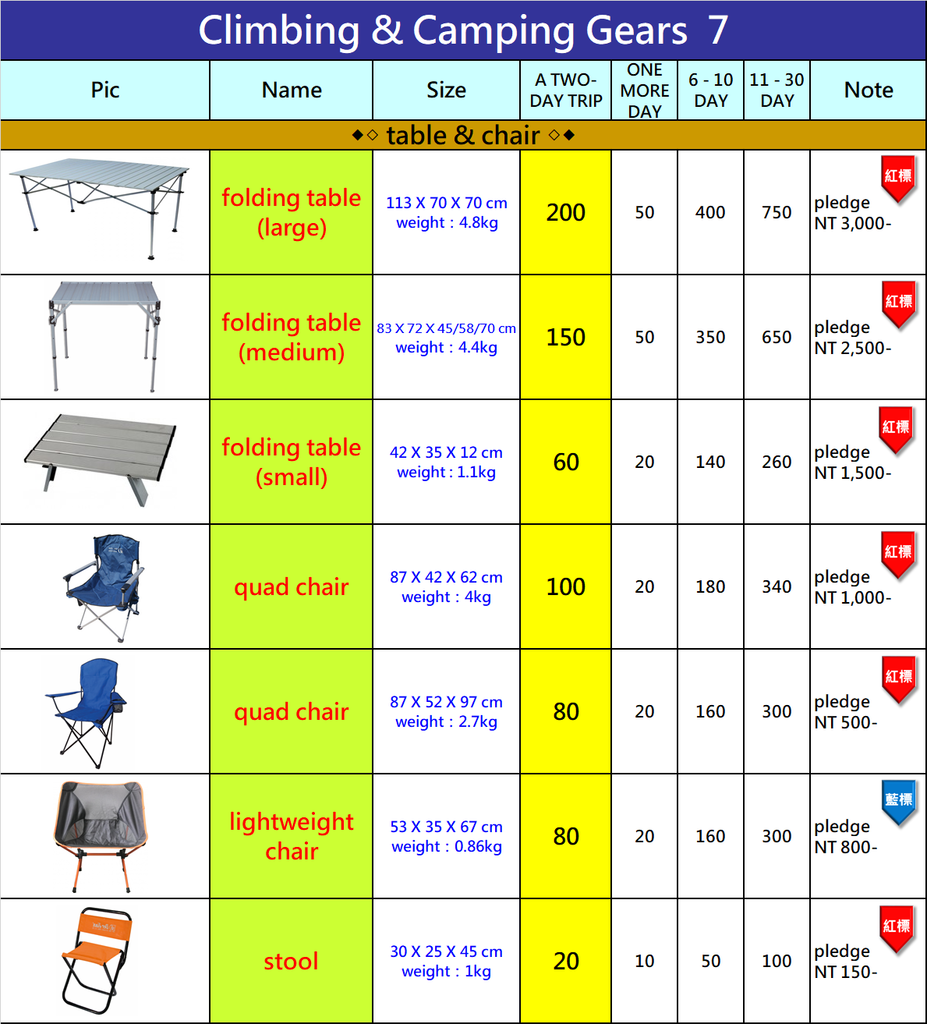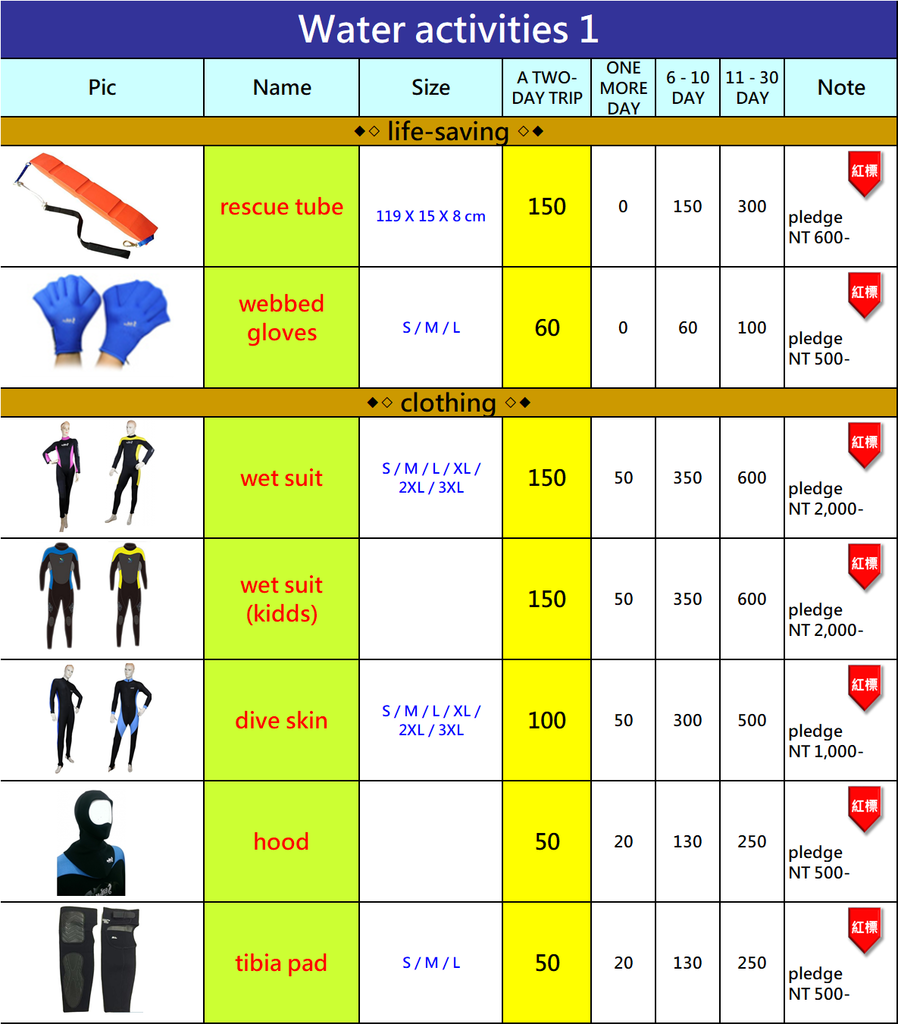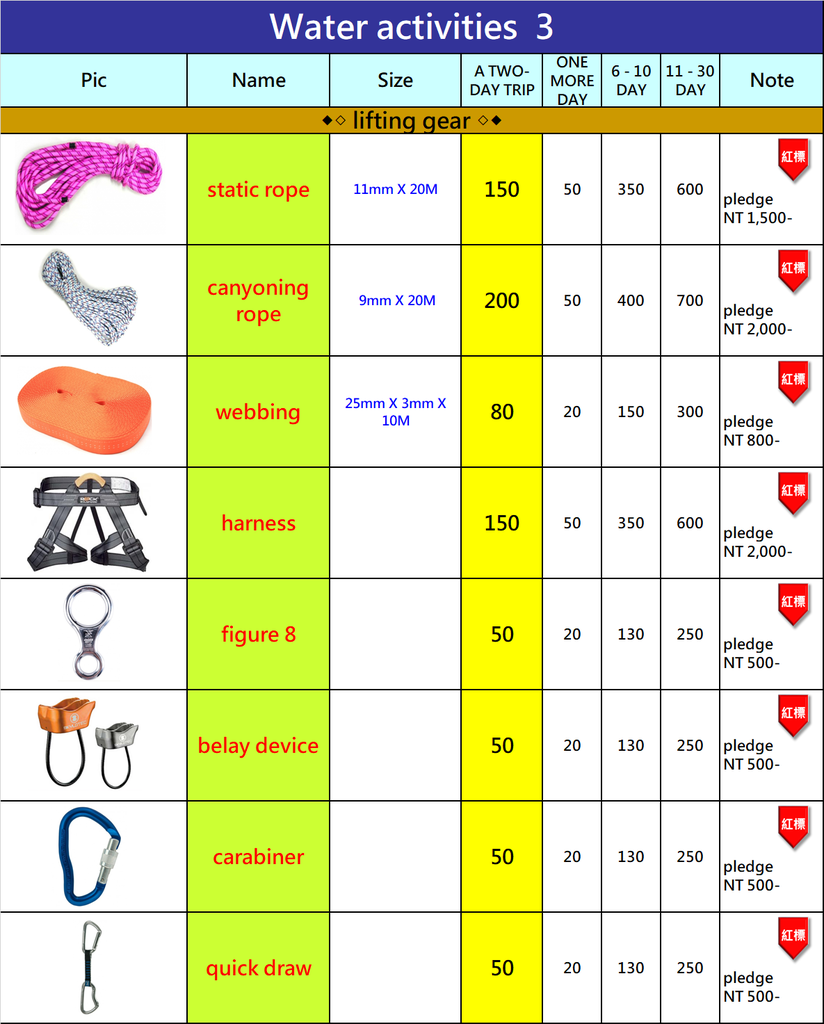 Tel :
(02) 2333-1682
Address :
1F., No.69, Quanzhou St., Zhongzheng Dist., Taipei City 100, Taiwan (R.O.C.)
Keyword : 2-Person Instant tent、3-Person Instant tent、4-Person Instant tent、5-Person Instant tent、6-Person Instant tent、6-Person Instant tent with vestibule、7-Person Instant tent、8-Person Instant tent、groundsheet、pavilion tent、rainfly、anopy、changing room、Beach Canopy、reinforced multi-purpose tarp、air mattress、cotton sleeping bag、down sleeping bag、cooler 、folding table、quad chair、stool、pillow、whisperlite、tripod grilling set、backpacking camping stove、Triangle Bracket Foldable Pot Stand、power extension cord、portable butane gas cooker、windshield、outdoor cookware set、mountaineering backpack、trekking pole、gaiters、led headlamp、raincover、backpack frame、LED lantern、rain shoe covers、raincoat(Top&Pant)、raincape、transport trolley、tibia pad、webbing、figure 8、carabiner、quick draw、belay device、harness、canyoning rope、static rope、ice Axe、12-point crampon、river tracing shoe、wet suit、dive skin、life vest、helmet、diving fin、rescue tube、mask & snorkel set、jacket、waterproof bag、camping、hiking、river tracing、rent、hire、lease、charter、let out